5. Metrics and reporting – the backbone of understanding your community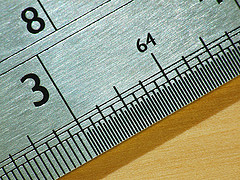 Image by Balakov via Flickr
We've touched on metrics before, and how understanding what you need to measure can help you understand how healthy your online community really is.
Metrics are vital. Understanding the who, what, where, why and how many of your online community is vital. Understanding if you're doing your company some good (or bad), is vital. Setting KPIs is vital and knowing whether you're hitting them, is vital. Metrics are vital.
Putting qualitative and quantitative measurements to the back of your mind - or worse, not considering them at all - is a little like setting up a restaurant, cooking a load of food, and not looking to see if anyone's eating it.
Recording, reporting and analysing your data is as much a part of community managing as keeping the spam out and the conversation going.
But what should you record?
As ever, it's a 'piece of string' subject. There are some established standards when recording any web traffic, of course:
Hits
Unique visitors
Page views
Time spent on site
Pages per visit
Entry points
Exit points
Most popular sections
Most popular pages
Referrers
And some fairly obvious community specific standards:
Number of members
Number of active members
Number of blogs/posts/comments/images
But here's where it starts to get interesting. Given that all online communities are basically a similar beast (a group of people brought together in one online space and communicating in a variety of ways), you'd think the list of key metrics would be pretty defined. You'd be wrong.

Lucy McElhinney, Community Manager at UKfamily.co.uk, has a couple of favourite stats. She tweets:
Return visitors - to gauge lurker/reader engagement, Active members (the number of members who 'did' something in the last month)

Ooh, and obviously advertising like the page views per visit metric as in communities it's normally so high.
Ratios are also very telling. As well as the basics, Adam Cranfield, Digital Media Manager at CIMA likes to know the "ratio of responses to discussions," and "ratio of comments to blogs." He also introduces a lovely turn of phrase that I'm going to steal wholeheartedly: nuggets.
Also, I want to measure 'nuggets' - new knowledge, useful to the company, gained through the community.
Reporting on the current health and vitality of a community - especially when you're community managing on behalf of a brand - is more than just a numbers game. ROI is more than just financial.
Great stories from the community can form positive PR activity; feedback (negative and positive) can inform improvements to customer services and spread learning about best practice throughout the company.
And as community manager, you are the gatekeeper to all this knowledge. Through recording it, filtering it and reporting it, you can affect real change. Frank van Gemeren, Game Producer and owner of Frag-em says you should pay attention to negative sentiment within the community:
There's always action=reaction, so a lot of negativity means there's something going wrong on some level, be it community involvement or policies, support, the actual product, or future expectations of your target audience.
For Frank, it's not just about numbers:
I believe more in the qualitative arguments than in quantity. While quantity can be used to measure popularity and brand recognition, which is important for PR, you won't build up a healthy, loyal community with a lot of hype and then failing to meet the expectations. That's where the negativity comes in.
As with moderation and launching before it, monitoring stats and activity is not something to 'just do', something to just have a go at and see what sticks. If you are serious about creating a valuable, worthwhile community, you need to think about recording and reporting metrics and activity before you've received even one visitor.
As we've said before so many times, planning is the key. Really thinking about what you want from your community proposition and how you will measure if you have it, is essential.
Newsletter metrics
So what happens when you communicate with members outside of the community platform, through newsletters or mailshots?
At FreshNetworks we're increasingly working to co-ordinate and strategically plan all newsletter communication in the most effective way for the members and the brand owners. There is a lot more fragility in the relationship here.
Why?
Mainly because unlike communicating within your community, where members have chosen to come to the space you have provided, here you are pushing your content into their domain. Their private space.
If you do it badly, intrusively, it could result not just in an unsubscribe from the mailing list, but a reaction on or an exodus from the community.
Put simply: You need to be as certain as possible how best to use newsletters. You need to know what works. And what doesn't.
Newsletter metrics are a whole other blog post (and one we hope to bring you soon) but one lovely little formula I want to highlight is the Disaffection Index, first mooted in a 2005 MediaPost article:
Rather than unsubscribe/delivered, the Disaffection Index (DI) is calculated by dividing unsubscribes by the response rate: unsubcribes/unique clicks

Calculated this way, the DI tells you how many people either a) clicked on your email for the sole purpose of getting off your list or b) were so dissatisfied with the payoff (promise vs. delivery) that they chose to unsubscribe.
It's simple maths but it's packed with insight:
DI = (unsubscribes / unique click) *100
More on this to come…
Some more reading
Is time-on-site a useful measure for online communities? (freshnetworks.com)
Building the business case for online communities (freshnetworks.com)
Social Media Measurement - Without Myopia (marketingpilgrim.com)
Are You Measuring the Right Things? (thecustomercollective.com)
---
For social media agency support get in touch or follow us on Twitter
.
---